🝛 Free fonts for the people!
What does 100% Free Fonts Mean?

Have you ever broken a sweat wondering whether you are allowed to use a font for your project? Have you ever decided to just "risk it" assuming that no one will find out anyway? It's time to stop worrying and break bad habits, because on Font Collector, all the fonts are 100%, free and it always will be.
In short, it means that if you downloaded a font on Font Collector's website, you can use it for any personal or commercial purposes. We have already done the tedious job of reading all the font licences and contacting the authors to make sure that the fonts are indeed Free to use for all purposes.
Results Page(s) . 1 . 2 . 3 . 4 . 5 . 6 . 7 . 8 . 9 . 10 . 11 . 12 . 13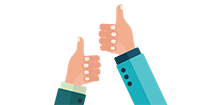 If you want to support Font Collector
and make it last forever and ever:
Disable ad blocker, click on one ad
👈 👉
(no traps or viruses, We finance the site thanks to advertisements)
🗸 Or make a
micro donation via Paypal